In laboratory and cleanroom environments, lighting plays a crucial role. These highly controlled environments require specific lighting conditions to ensure the safety, precision and quality of the processes carried out, so it is essential to comply with current lighting regulations. In this article, we will explore the current regulations and highlight the advantages of IP65 rated displays in these demanding environments.

Current lighting regulations in laboratories and cleanrooms
In the European Union, specific regulations have been established for lighting in these environments, such as ISO 14644-1, which defines the standards for cleanrooms, and ISO 9001, which focuses on quality management systems.
In terms of lighting, an adequate level of general lighting is required to ensure visibilit It is also important to avoid particle emission and dust accumulation in lighting systems. It is therefore essential to use luminaires specially designed to comply with these regulations.
Advantages of IP65 panels in laboratories and cleanrooms

An IP65 rated panel offers a number of key benefits for installation in laboratories, cleanrooms or cleanrooms where high tightness, cleanliness and hygiene are required. These include:
They protect against dust and particles: IP65-rated displays are designed to be completely sealed against dust and airborne particles. This prevents the accumulation of contaminants on the surface of the display, which could compromise the integrity of the processes carried out in the controlled environment.
Water and moisture resistant: The IP65 rating also ensures effective resistance to water and moisture. In laboratories and cleanrooms, where procedures involving liquids or wet substances may be performed, it is essential to have lighting fixtures that can withstand these conditions without risk of damage or malfunction.
Easy to clean and disinfect: IP65 rated displays are designed to be easy to clean and disinfect. In environments where hygiene is paramount, having devices that can be cleaned efficiently and quickly is essential to maintain the high standards of cleanliness required.
Long life: IP65-rated panels are typically robust and durable, making them ideal for use in industrial and demanding environments such as laboratories and cleanrooms. These devices are designed to withstand harsh conditions and have an extended service life, reducing replacement and maintenance costs.
Lighting in laboratories and cleanrooms is a critical factor affecting both the safety and accuracy of the processes carried out in these environments. Complying with current lighting regulations is essential to ensure compliance and quality of the results obtained.
IP65-rated panels offer an optimal solution, providing high watertightness, cleanliness and hygiene, and meeting the required standards. Choosing the right luminaires ensures a safe, efficient and high quality working environment.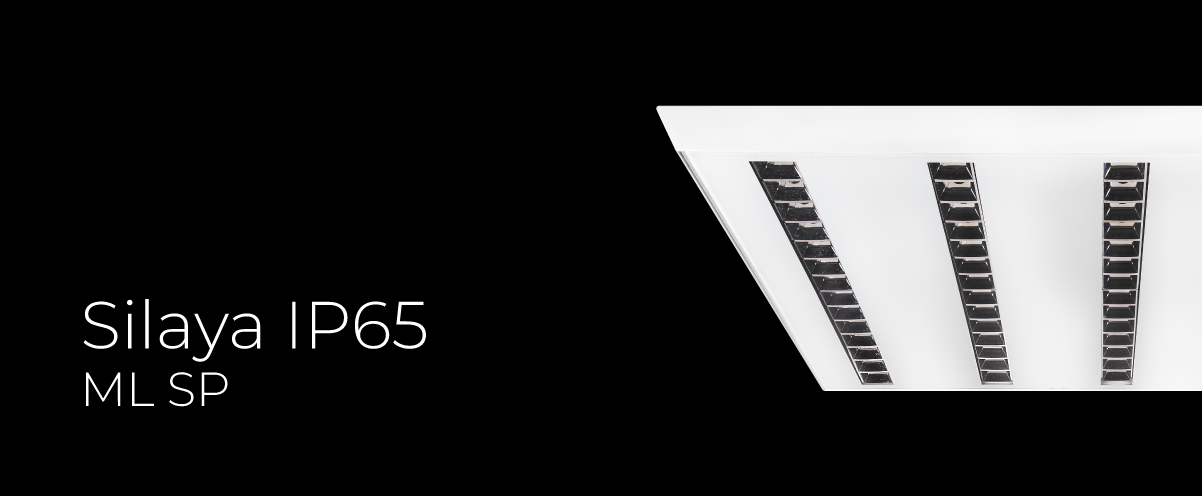 Silaya IP65, the perfect panel for laboratories and cleanrooms with metal panel ceilings.
Our Silaya IP65 surface-mounted luminaire is specially designed for cleanrooms, laboratories and production facilities that require extreme hygienic conditions. It can even withstand hydrogen peroxide cleaning.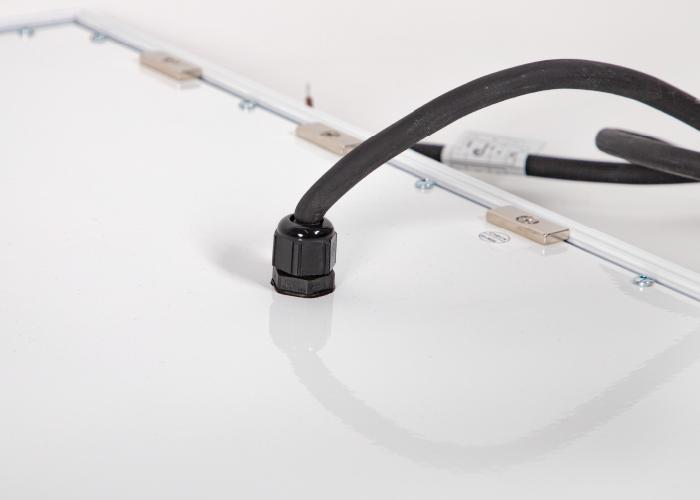 It stands out for its high IP65 UGR<19 tightness level and IK08 impact protection. These features mean that Silaya can withstand extreme conditions with a high level of safety. In addition, it is designed with a controlled UGR for use in spaces where tasks require a high visual demand.
High performance and low power consumption makes it one of the most efficient luminaires on the market thanks to the medium-power 2835 LED modules, the highly transparent PMMA lenses and the metallised PC reflectors that make the most of the luminous flux, providing a luminous flux of up to 7,522lm and an efficiency of 145lm/W.
Available in standard 600x600mm and 300x600mm sizes, recommended for very congested ceilings with laboratory equipment, air-conditioning units, disinfection, fire and biological safety devices.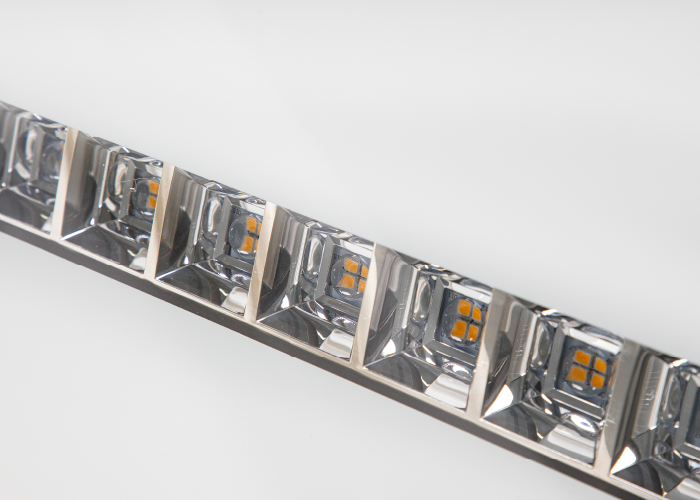 Silaya IP65 stands out for its minimalist design and robust structure, with an extruded aluminium frame, guaranteeing an exceptional durability of up to 150,000 h of lifetime, with a luminous flux depreciation of less than 20%. In addition, it features extra-clear glass with an inner mask that maximises flow and minimises glare.
Its extruded aluminium profile, only 33mm high and with an oblique arrangement, is designed to prevent the accumulation of dirt both in the luminaire and in its slits, thus ensuring optimum performance and easy cleaning.
Mounting with neodymium magnets avoids having to drill large holes in the ceiling. In addition, it has a combined installation force of over 41.5kg in its largest modulation (600x600mm). This is important in spaces that are subjected to air pressure tests to check their airtightness.
In short, Silaya IP65 is a discreet, versatile and elegant design luminaire ideal for achieving quality lighting in these areas, guaranteeing an aseptic environment and optimum visual comfort.